HOW ARE YOU?
ALL GOOD, I hope.
I got sent an article the other day by one of our Technology Directors.
It was very short but I feel that he encapsulated his message very well.
Breaking down some FACTS that are UNKNOWN to MANY.
EVERY DAY WE INNOCENTLY GREAT EACH OTHER.
But the MAJORITY of US are NOT AWARE of the SPELLING!
For it is ALL in the SPELL-ING!
DID YOU KNOW?
WHERE YOU AWARE?
Kindly CHECK OUT the article below, YOUR THOUGHTS and FEEDBACK are ALWAYS WELCOME:
"HELLO.GOODBYE…
Hello, Goodbye…
OR RATHER…
Goodbye, Hello.
Why have I inverted the title?
It is time to say GOODBYE to HELL-O.
Tones have been lost within the meaning of modern language.
HELLO sounds like HELL LOW.
Our words have meaning, and a direct effect on the world.
This has been proven through the water experiment where LOVING words and intention were projected onto a water molecule, frozen and then analysed under a microscope.
Loving frequency created beautiful geometric patterns in the water, and once frozen was crystallised in ice.
Similarly but on the opposite side of the spectrum, LOW vibratory frequency words and sounds left a distorted and disgusting pattern in the water crystalized in the ice.
By this logic, the words that we speak to each other have a direct effect on the world.
We are heavily composed of
water.
Therefore we should avoid words such as HELLO because it breaks down to HELL LOW in terms of the sound of the phrase that is made.
Would you wish LOW HELL on someone?
Does this sound like a HIGH vibratory frequency to you?
Hi is a much better way to greet our fellow men and women.
HIGH.
Does this sound like a HIGH-frequency word?
This should be a simple observation but it misses the majority.
SPELLING is how we compose our words.
The English language is a language for magick and we are constantly casting positive and negative spells based on
the words we unconsciously or consciously use.
Here is an exercise to try after reading this.
Consciously focus on the words that you use and identify whether
the sounds and tones used would create a HIGH frequency or a LOW frequency.
You will soon see that there are
many SPELLS that we cast unconsciously, it takes work and is a difficult task to irradicate all of the patterns of
demonic spell casting that we do to each other unconsciously.
It is wise to start focusing on the words that we say, I am no greater than YOU reading this.
I still cast some of
these spells unconsciously and strive to defeat these unconscious patterns and program new HIGHER, CONSCIOUS patterns
so that I can project frequencies of HIGH vibration onto my fellow man and as a result create beautiful geometric
structures on a microcosmic level in my subjective world.
This is a beautiful thing to embark upon and will leave you feeling much more empowered in your life by taking back control of the power that lies within us as CREATOR beings made in the IMAGE of GOD ALMIGHTY. 
Why would we want to project LOW FREQUENCY or LOW HELL into the world around us?
It's time for us to get away from LOW HELL frequencies and into the HIGH frequency aligned with THE WILL of the
MOST HIGH GOD ALMIGHTY.
Thank you for reading.
Peace, Love and Blessings from the Most High's servant, Daniel Owen Raine – https://www.tiktok.com/@daniel…"
This post was written by Daniel Raine, one of our Directors of Technology. If you would like to know more about Daniel feel free to follow him in TikTok.
He is also a PUBLISHED AUTHOR, and an EXCELLENT WRITER.
Another one of GCPP'S HIDDEN TALENTS.
If YOU would like to CHECK OUT, SOME MORE of his WORK'S, YOU can FIND HIM in CHAPTER 4 of the book below it is titled:
Choose Your Master & Reap What You Sow.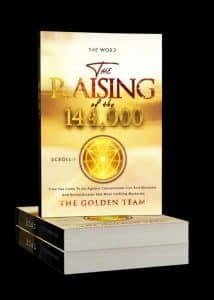 CLICK HERE TO GET YOUR 144K BOOK
It is a FABULOUS READ, THE WHOLE BOOK is IN FACT 🙂
It has been a GREAT PLEASURE as ALWAYS!
PEACE & LOVE!
Kwadw(o)